.
about
.
general

statement


.
history of

the collective


.
publications
.
articles
.
eastside

comrades


.
contact.
.

The Mourning Commute Collective is not currently operating as a group, but those involved continue to do organizing in and around the Seattle area! If you like what you see here (or even if you don't like it!) - by all means - get in touch with us!
view guestbook ... sign guestbook
Welcome to the website of the Mourning Commute Collective, which operated in the King County and Eastside Seattle areas. We are a group of individuals who organized (and contiune to organize!) around, expand on, and propagate the ideals of Social Anarchism. Anarchism, as defined by its history, theory, and practice, is the proposal that humanity can and should operate without the negative constrains of domination. Social Anarchists seek to reorganize the economic, and political institutions in a decentralized and nonhierarchical manner, as to ensure opportunities for all people to participate in decision-making. The building of community-oriented alternatives to current institutions enables society to do away with unnecessary hierarchies.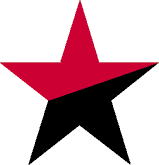 We can be contacted at mourningcommute@yahoo.com, or you could just...
Join the listserv! Send an email to mourningcommute-subscribe@yahoogroups.com or through the web at http://groups.yahoo.com/group/mourningcommute.




below are stupid tripod ads