.
.
.
about
.
general

statement


.
history of

the collective


.
publications
.
articles
.
eastside

comrades


.
contact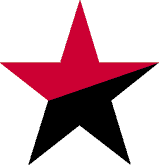 "Welcome to Bothell," the sign reads, "For a day, or a lifetime." This charming motto goes a long way in explaining the prevailing paradigm of most suburbs, and the Eastside suburbs of Seattle are no exception. The residents rarely happen to think beyond the day-to-day, and they happen to do so for a lifetime.
Which is not to say Eastside residents, or humanity in general, is inclined towards apathy- only that suburban life accommodates it. This also means that it can be challenged.
Hoping to untangle the Eastside from its superficial knot of SUVs and Starbucks lattes, the Mourning Commute Collective was up to the challenge. Together we sought to infuse the suburban routine of "commute, work, commute, sleep..." with the seeds of a political and social consciousness, while drawing connections to the need for a dramatically (and democratically) restructured society. Towards this end, Mourning Commute strived to practice the action and reflection necessary in order to transform our communities, and in turn, the world.
Regarding reflection, the writing of our general statement saw the articulation of our common principles, while providing the ground for our future work. As a group "seeking to organize around, expand on, and propagate the ideals of Social Anarchism," we strived toward the reorganization of "economic and political institutions in a decentralized and nonhierarchical manner, so as to ensure opportunities for all people to participate in decision-making."
At the same time, we understood that principles are mere pretension without being acted upon. We began modestly, with several pamphlet campaigns at local malls, hoping to educate others about the injustices of sweatshop labor. Around Christmas 2001, Mourning Commute patrolled shopping malls fully clad in our best red and green, posing as striking elves opposed to Santa Claus's latest sweatshop practices. The dawn of the New Year, meanwhile, saw the publication of a collective newsletter, Dovetail, which over its short history, circulated in the hundreds.
With the pamphlet campaigns and our newsletter showing mixed success and little feedback, Mourning Commute hoped to stage an event that would bring Eastsiders en masse around an urgent current event- in this case, the newly christened "War on Terrorism." Our aspirations were realized in April 2002, with the staging of a teach-in on United States foreign policy and the Middle East, held at the Redmond Regional Library. Featuring local activists Geov Parrish, Ed Mast and Joe Szwaja, the event drew a standing room only audience of well over fifty people, wildly exceeding all our expectations.
Speaking at people, it turns out, is futile; one must speak to people, but then only in hopes that you will eventually speak with them, and engage in dialogue. Engagement, involvement, interaction.
Suburban life itself is rife with lowered expectations, and the experience of Mourning Commute worked towards raising morale along with the consciousness for lasting social change. The future of political activism on the Eastside has yet to be seen, but the knowledge we accrued throughout our short history certainly speaks to the power of a small group of individuals in empowering themselves and others, while working towards a better world.
If you would like any further information on who we were, what we did, and what we are doing now, don't hesitate to contact us at mourningcommute@yahoo.com